18 + (Driver license is required)
Age
This tour is a very nice combination of sightseeing and karting in the mountains. We will drive to the interesting village Ronda in the mountains, with the famous old bridge Puente Nuevo between the two parts of the village, and it's stronghold. The way itself is the target!
We will start the tour from the meeting point and then drive along the A-397 road to Ronda, where the first break will be at the well-known biker hangout.
After that, we drive directly to the center of Ronda. From here, you will have 2 hours on your own, (or longer after arrangement). It's a very nice village to take pictures in and to enjoy all the great views. After that, we will drive the same way back, with a small break on the way.
PRICING 
DEPARTURE/RETURN LOCATION
DURATION
DEPARTURE TIMES
Between 11:00 & 17:00 coordinate with our ACS partner
RECOMMENDED WEAR
Sporty clothing & closed-up shoes
INCLUDED

| | |
| --- | --- |
| Professional guide | All necessary equipment |

NOT INCLUDED
The vehicles

The Go-karts are equipped with:
Automatic
Light
Indicator
Backlight and stop light
parking brake
brakes all 4 wheels together
two Mirrors
Vehicle data:
| | |
| --- | --- |
| Top Speed: | 88 km/h |
| Engine: | 1 Cylinder 4-stroke |
| Cubic capacity: | 163,3 cc |
| Power: | 13 HP / 7500 U/min |
| L x W x D: | 208 x 112 x 81 cm |
| Wheels: | 15×6-7 front, 16×6.5 back |
| Gearbox: | fully automatic |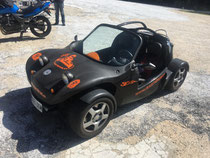 Our Funbuggy is equipped with:
gear shift ( 5 gears + reverse gear )
Two-seater
Safety belt
Light
Indicator
Back light and stop light
parking brake
brakes all 4 wheels together
two Mirrors
Vehicle data:
| | |
| --- | --- |
| Top Speed: | 110 km/h |
| Engine: | 2 Cylinder 4-stroke |
| Cubic capacity: | 500 cc |
| Power: | 21 HP / 2200 U/min |
| L x W x D: | 250 x 140 x 110 cm |
| Wheels: | 175/60/13 |
| Gearbox: | gear shift ( 5 gears + reverse gear ) |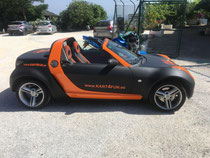 Our Funbuggy is equipped with:
automatic with shift paddels
Two-seater
Safety belt
Light
Indicator
Back light and stop light
parking brake
brakes all 4 wheels together
two Mirrors
Vehicle data:
| | |
| --- | --- |
| Top Speed: | 110 km/h |
| Engine: | 3 Cylinder 4-stroke Turbo |
| Cubic capacity: | 700 cc |
| Power: | 82 HP / 2200 U/min |
| L x W x D: | 350 x 162 x 120 cm |
| Wheels: | 205/45/16 |
| Gearbox: | automatic with shift paddels ( 5 gears + reverse gear ) |